Latest News
Here's some Sunday reading for you. It's a story that Mike Moore of the Douglas Budget wrote about our current mule voyage. Thanks for the great article Mike (links to article below).
By Mike Moore Glenrock Independent Via Wyoming News Exchange
Aug 31, 2019
GLENROCK — A sizeable chunk of Bernie Harberts' year was determined solely by – what else – a single strand of dental floss.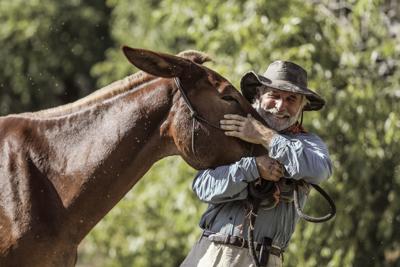 Recently, the mules and I spent the night at the Monk King Bird Pottery in Jeffrey, Wyoming. I asked owner Byron Seeley how the pottery got its name.
Here is how Byron says the pottery got its name.
"I was living out in Texas and they were filming this movie around me. Clint Eastwood was in it. They built this whole village around me."
"One day, a guy in security asks me, 'what's this place… Continue reading →
Last night I was sitting in the Split Rock Bar and Cafe celebrating my arrival in a busted uranium town when a man walks in and says, "your mule is over at Isabel's house." Isabel owns the bar.
I put down my beer.
Oh.
So I climb in to the man's car and he drives me out in to the night and we go down a long driveway and… Continue reading →
The Wyoming wind blew the snot from my nose in to my eye and I steered the mules for the sign that looked mis-spelled: "Monk King Bird Pottery". I blamed the snot but sure enough, there was an "N" in the name where I would have expected a "C".
Pulled the mules to a halt in front of the storefront. Out of the wind I wiped… Continue reading →
A lady in too-tight pajamas is smearing peanut butter on white bread. Off in the distance, my mules are grazing. Travel has gotten easier in the past 200 years. The mules and I have arrived at Independence Rock, Wyoming.
I saw this camper and knew that if I took it home and fixed it up I could drive it back in time to when someone lived in that abandoned stucco house in Shawnee, Wyoming. Actually, I yearned to drive it farther back in time than that.
After I fixed it up, that camper would take me all the way back to when the days moved slowly and I wanted to chop out great big chunks… Continue reading →
My brother Christian recently asked me in the Comment section, "sleeping question for you: when do you set up the bivy, as opposed to the big tent? Is weather a factor, time?"
Here are some answers bro.
The Bivy
A bivy (bivouac) bag is just a sack that keeps the… Continue reading →
Hello – and goodbye – from Casper, Wyoming.
The mules and I arrived in Casper Tuesday evening. We hope to set out toward Muddy Gap today.
Muddy Gap's sort of a misnomer given that it's smack in in the middle of Wyoming's best dusty dry land. The good news is… Continue reading →
A few mornings ago, the mules and I woke to a heavy fog. I saddled the damp mules and we headed in to the foggy desert landscape.
The mules and I are riding deeper and deeper in to the eastern Wyoming desert. Creeks, ponds and lakes, reliable watering sources to the east, have vanished. Increasingly we are relying on windmills for water.
Across the Dry Land
Every day, mules Brick and Cracker drink 5 to 10 gallons of water apeice. I get by on less than a gallon. Until now, we've traveled from town to town. Mornings, I fill my jugs… Continue reading →