Travel by Mule
Most evenings after the mules are staked out for the night and my tent is pitched, I dig out my journal and write down how far we've come.
I don't write in a leather bound journal you might imagine Wild Bill communing with after a busy day shooting buffalo. No, my journal's just a plastic binder filled with 50 sheets of loose leaf paper.
I think I brought 40 sheets too many.… Continue reading →
Cracker has learned 2 of the 3 Desert Mule Travel Rules.
Drink when you find water
Eat when you find food
Don't eat prickly pears
Cracker's still working on Rule 3.
The wheels on his luggage cart where worn to the rim. "I made tires with Gorilla tape," he said. "They got me here from Ogden, Utah." Strapped to the cart were all his belongings.
I met Glyn walking up the sidewalk in Douglas, Wyoming. Why, I asked him, was he out rambling?
He says his life needed a change of direction. "I always wanted to leave my home town. It… Continue reading →
200 miles of sagebrush, pronghorn antelope and frost numbed fingers are behind us. The mules and I have completed the leg from Casper, Wyoming to Pinedale.
If you don't have time to rescue a grasshopper from drowning, you're moving too fast.
Some days I travel too fast. This particular day, when I saw the grasshopper stranded on the stock tank drain, I rendered assistance. I'm cheered to know she's back out on the eastern Wyoming desert among the hot wind and dry grass.
Winter will halt her song soon enough. It's a better way to go than drowning in the desert.
More… Continue reading →
The other day, months after I should have done it, I introduced you to my mule Cracker. Today, I'm going to introduce you to Brick.
Brick
I know Brick's mom was a horse but I swear it was a white-tailed deer. She's long legged, wasp waisted and has jumped a 4-foot steel gate from a standstill. Twice. Uphill. Electric fencing doesn't stand a chance.
How rude of me. I never introduced you to my mules Brick and Cracker. With apologies to you and the mounts who have carried me so far, may I introduce mules Brick and Cracker.
Let's start with Cracker. We'll… Continue reading →
I stood before them crying in the wind. Memories of kissing my wife Julia good bye, riding mules Brick and Cracker out our front gate and now we stood before them. We had arrived at the foot of the Rocky Mountains.
I sat in my saddle facing the snowy peaks and rewound the mule journey of 1,600 miles. I thought back on the… Continue reading →
Here's some Sunday reading for you. It's a story that Mike Moore of the Douglas Budget wrote about our current mule voyage. Thanks for the great article Mike (links to article below).
By Mike Moore Glenrock Independent Via Wyoming News Exchange
Aug 31, 2019
GLENROCK — A sizeable chunk of Bernie Harberts' year was determined solely by – what else – a single strand of dental floss.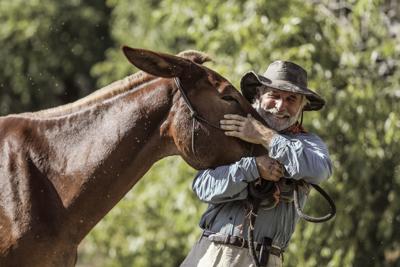 Recently, the mules and I spent the night at the Monk King Bird Pottery in Jeffrey, Wyoming. I asked owner Byron Seeley how the pottery got its name.
Here is how Byron says the pottery got its name.
"I was living out in Texas and they were filming this movie around me. Clint Eastwood was in it. They built this whole village around me."
"One day, a guy in security asks me, 'what's this place… Continue reading →